A need for farming land and an expedition begins
The Blue Mountains stood as a barrier to westward expansion for the colonial settlement at Port Jackson. Several explorers attempted to find a path through the Blue Mountains but the deep gorges and thick scrub foiled their efforts. It would take 25 years before the Mountains were successfully crossed by Europeans. Once crossed, however, it took just over five years for a road to be surveyed and built and settlements like Bathurst to be established. This rapid expansion transformed the Colony of New South Wales.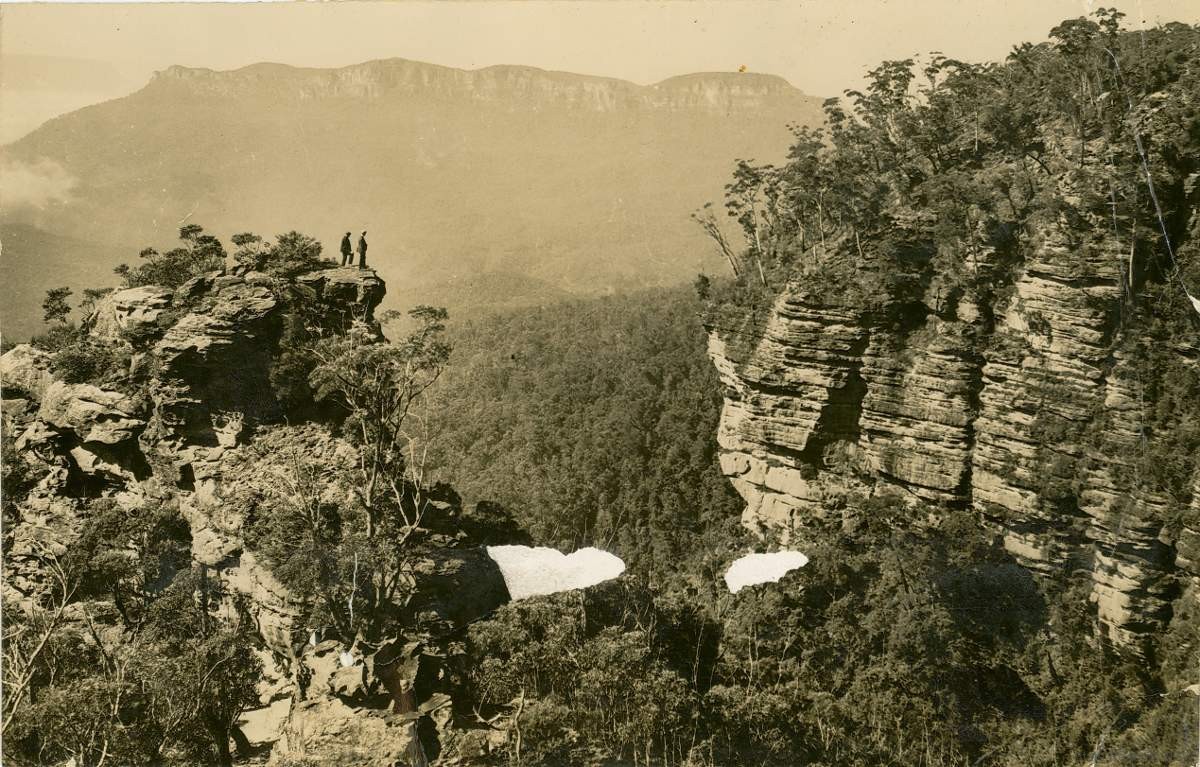 Gregory Blaxland, William Lawson and William Wentworth
By 1813 there was a shortage of good quality land for pasture in and around Sydney. Gregory Blaxland had arrived in NSW as a free settler in September 1805 and immediately set about establishing himself as an agriculturalist and pastoralist. He, in particular, hoped that the land on the other side of the Blue Mountains would provide more opportunities to farm and graze stock. Blaxland, along with William Wentworth, a landholder and explorer, and William Lawson, a Lieutenant in the NSW Veterans Company, a trained surveyor and pastoralist began the first successful crossing of the Blue Mountains:
On Tuesday, May 11, 1813, Mr Gregory Blaxland, Mr William Wentworth and Lieutenant Lawson, attended by four servants with five dogs and four horses laden with provisions, ammunition and other necessaries, left Mr Blaxland's farm at South Creek for the purpose of endeavouring to effect a passage over the Blue Mountains …"
(Richards, p.67)
Governor Macquarie, following his trip to the interior of NSW in 1815, described the Blue Mountains as
thick and in many places nearly an impenetrable Forest, the surprise at the want of effort to surmount such difficulties must abate very considerably."
(NRS 897, SZ 759, p.101)
A difficult journey of discovery
The Blaxland, Lawson and Wentworth expedition decided to keep to the ridges rather than venturing down to the valleys. For 21 days they hacked through the thick scrub, marking out a path for the horses to follow the next day and on average they covered 4.5km a day. On 31 May the expedition reached what is now Mt Blaxland, just west of the Cox's River (and 12km short of the Great Divide), from where they caught tantalising glimpses of the rich and plentiful pastureland on the other side of the Mountains. The bedraggled expedition, by this time running out of food, returned home in less than a week.
Macquarie describes the group as
having extraordinary patience and much fatigue effected the first passage over the most rugged and difficult part of the Blue Mountains."
(NRS 897, SZ759, p.101)
Lands grants for success
Governor Macquarie granted all three explorers 1000 acres of land as a reward but it was really only Lawson who continued exploring and living in the West. In memory of the historic first crossing there is a township named after Gregory Blaxland and William Lawson in the Blue Mountains while Wentworth Falls is named in honour of William Wentworth.

The governor is happy to embrace this Opportunity of conveying His acknowledgements
to Gregory Blaxland and William Charles Wentworth Esquire and Lieutenant William
Lawson, of the Royal Veteran Company, for their enterprising and arduous exertions
on the Tour of Discovery which they voluntarily performed in the Month of
May last, when they effected a Passage over the Blue Mountains, and
proceeded to the Extremity of the first Valley particularly alluded to in
Mr Evans's Tour, and being the first Europeans who had Accomplished the
Passage over the Blue Mountains. The Governor desirous to Confer on these
Gentlemen substantial Marks of his Sense of their Meritorious exertions on this
Occasion, means to present each of them with a Grant of 1000 Acres of
Land in this Newly discovered Country. –
By Command of His Excellency
The Governor
"Signed"
J.T Campbell Secretary

A push further towards Bathurst
George Evans
In November 1813 Surveyor George Evans was sent by Governor Macquarie to confirm the path through the Blue Mountains that Blaxland, Lawson and Wentworth had cut and extend on those discoveries. Evans left Sydney on 13 November 1813 accompanied by five men: Richard Lewis and James Burns (or Byrnes), both free and John Coogan, John Grover and John Tygh (or Tighe), all convicts. James Burns had also accompanied Blaxland's party (NRS 898, SZ758 p.456 Reel 6038).
Map showing Evans' journey from Emu Plains to Mount York

View and zoom in to a larger map in a new tab/window
Map showing Evans' journey from Mount York to the Bathurst Plains

Viewand zoom in to a larger map in a new tab/window
By 26 November they had reached the end of the Blaxland route and Evans continued westward to explore the Fish and Campbell Rivers along the O'Connell and Macquarie Plains. Evans' party become the first Colonists to cross over the Great Dividing Range. Evans reached the site of Bathurst on 9 December and describes in his published Journal the land around Bathurst as:
the whole excellent good land, and the best Grass I have seen in any part of New South Wales; the hills are also covered with fine pasture …. It is in general the sweetest in an open Country."
(Mackaness, p33).
Evans' journey was not without hardship though. On his return home to Sydney, when Evans reached the Blue Mountains area he found his route had been partially destroyed by fire. On Monday 3 January Evans records in his Field Book:
A run of Water on my Right, a spacious Valey [sic], very boisterous Weather, the Mountains have been fired and from the thickness of the Brushes, had one been on them, one could not have escaped; bad travelling the sticks of the Bush is as bad as that the leaves from them had not been consumed by the Fires, it tears us to pieces particularly our clothes & makes us appear as Natives from the Black dust off them, we have much trouble to get feed for the Horses all herbage is destroyed."
(NRS 13889 Item 96 Reel 2623)
Land grants for Evans and co.


Evans received a reward of 100 pounds and a grant of 1000 acres of land in Van Diemen's Land. The other members of his party received payments from the Police Fund and grants of land for their services in the two-month journey to the interior.
See the Colonial Secretary's papers for:
Building the road from Emu Plains to Bathurst

(p.507)
– Government and General orders –
– Civil Department –
Secretary's Office Sydney
12th July 1814
It being the Intention of His Excellency the Governor to send in
the course of a few Days a Working Party of thirty men, under
the Protection of a Guard of Eight Soldiers, to commence the
construction of a Cart Road from "Emu Plains" (hitherto
erroneously called Emu Islands), situate on the left Bank of the
Nepean River, across the Blue Mountains to the extensive Tract
of Champaign Country lately explored by Mr Evans; and William
Cox Esquire of Clarendon Park, having in a very handsome and
liberal Manner made a Tender of his personal Services in the
Superintendance and Direction of the said very important undertaking,
His Excellency has accordingly accepted of his Proposal; and in
consequence has entrusted to his Care and Judgement the entire
Execution of the said work.
The construction of the Road being considered an Object of the first
Importance to the future Prosperity of the Colony; and as it will be highly
conducive to its being effected in the shortest practicable period that
the Persons now to be employed on it should not be interrupted
unnecessarily by others out of an idle Curiosity proceeding thither
during the Time required for the final completion, His Excellency
the Governor and Commander in Chief deems it expedient to order and
direct, that no person of whatever Description shall proceed to the said
Road
(p.508)
Road, or cross over the Nepean River to "Emu Plains", during the
Time which shall be occupied in the Making of the said
Road (the Road makers, Government Stocksmen, and others
employed in the said work only excepted), unless specially
authorised to do so by a Written Pass, signed by His Excellency
the Governor.
Any Person who shall attempt to transgress this Order will be
apprehended by the Military Guard which is to be stationed
at Emu Plains, and sent a Prisoner to Sydney.
When the Road over the Blue Mountains shall be rendered
passable for Carts or Carriages of any kind, the same will be
made known to the Public by an official Communication
through the Medium of the Sydney Gazette.
By Command of His Excellency
The Governor
"Signed"
J.T. Campbell Secretary

William Cox
William Cox arrived in the Colony in 1800 as paymaster with the NSW Corps. He resigned his commission in 1811 and became a magistrate in Windsor where he also began constructing a number of government buildings. In July 1814 Cox was commissioned by Governor Macquarie to build a road from Emu Plains to the Bathurst Plains, following as far as possible the route established by Blaxland and surveyed by Evans.
Cox constructed the new road in 27 weeks

(p.199)
Government House, Sydney
Thursday 14
th
July 1814
Sir,
1. Having some time since
determined on having a Carriage
Road constructed from
Emu
Plains
, on the Left Bank of the
River Nepean, across the Blue
Mountains, to that fine tract
of open country to the Westward
of them, discovered lately by Mr
Evans; and having recently received
from you a voluntary offer
of your superintending and
directing the Working Party
to be employed on this very
important service, I now must
readily avail myself of your
very liberal and handsome offer
of superintending and directing
the constructing of this road,
and do hereby invest you with full
(p.200)
full Power and authority to
carry this important design
into complete effect; Government
furnishing you with the necessary
means to enable you to do so.
2. The number of artificers and
labourers, namely thirty, and
the Guard of eight soldiers, you
have yourself already selected, or require,
shall be allowed and furnished
to you forthwith for this service
and they shall be supplied with
a plentiful and adequate Ration
of Provisions whilst employed ?
it. Herewith you will receive
a list of the number of artificers
and Labourers allowed for this
service, together with a scale on
the back thereof of the weekly
Ration of Provisions they are to receive.
You will also receive herewith, for your guidance,
Copies of my letters addressed to the
Deputy Commissary General, on the subject
of the Provisions, Stores, Tools, Utensils, Arms,
(p.201)
Ammunition, Slops and other
Necessaries, to be furnished from this
Department, for this service, all
of which will be forwarded to you
to the Depot established on Emu
Plains forthwith, and which you
will be pleased to receive and take
charge of on their arrival there,
placing such a Guard over them
as you may deem expedient; the
Sergeant commanding the Guard of
soldiers being instructed to receive
all his orders from you, for the
guidance of himself and Party and
for their Distribution. You will
likewise receive herewith for your information a general
list, or schedule of the Provisions,
Stores, Slops, Tools, Implements, and
other Necessaries, intended to be
forwarded to you from Sydney
by two separate conveyances
or convoys, including one Horse, two new
Carts with Harnesses, and two yokes
of well-broken-in Bullocks;
it being my intention to send off the
(p.202)
the first convoy from Sydney
tomorrow morning for Emu
Plains, and the second convoy
in a fortnight afterwards.
3. I am in hopes the Provisions,
Tools and other necessaries will
arrive on the Banks of the River
Nepean in time to enable you
to commence the construction of
the new intended Road, on Monday the
18
th
Instant. Entertaining
the fullest confidence in your
own zeal, knowledge and ability
for conducting and executing this
service in the manner intended
it becomes unnecessary for me to
enter into any detail on the
subject. The more especially
as you are already in full possession
of my wishes and sentiments, as
communicated to you in our
late conversations on this point
suffice it therefore for me to
specify here a few of the principal leading
(p.203)
leading Points necessary to direct
your more particular attention
to. First, the Road is to commence
at the Ford already determined on,
on the River Nepean to Emu
Plains, and from thence across
the Blue Mountains to the
Macquarie
River
, and a critical part of
Bathurst Plains
; following the
track laid down in Mr Evan's
Map, of which I have already furnished
you with a Copy; but, in case you
should, on further examination of the
track he followed, find it advisable to make any
occasional Deviations therefrom,
you have my full permission to do so.
Secondly, the Road thus made must
be at least twelve feet wide, so
as to permit two carts, or other wheel
Carriages, to pass each other with ease.
The timber in forest ground to be cut
down and cleared away twenty feet
wide, grubbing up the stumps, and
filling up the Holes, so that a four
wheel Carriage or Cart may pass without difficulty
(p.204)
difficulty or danger. Thirdly, In Brush
ground, it is to be cut twenty feet
wide, and grubbed up twelve feet
wide. Any small bridges
that may be found requisite to
be made, must also be twelve
feet wide. I conceive this to be
a sufficient width for the proposed
Road at present; but where it
can with ease and convenience
be done, I should prefer the
Road to be made sixteen feet
wide. Fourthly, the Road for the
present is to terminate about the
Center of "Bathurst Plains"
, or on the
banks of the
"Macquarie River"
,
carrying the Road as near the
Banks of that River as practicable.
4. You will use your own
discretion in establishing one or
two Depots for Provisions,
according as you may find them
necessary, after you have once
crossed theBlue Mountainsand
descended into the Plain Country,
taking care to establish each Depot however
(p.205)
however at each Places, as afford
plenty of good wholesome water for
Man and Beast. Whatever
extra expenses you may incur
in constructing these Depots will
be paid from the Colonial Police
Fund; and also the amount of
such slops, shoes, or other articles
as you may find it necessary to supply
the Working Party with for their
use and comfort during the time
they are employed on this service.
5. I have now only to add that
I shall at all times be happy to
hear from you during the progress
of the Service you have thus been
so good as to offer to see executed;
and shall most readily comply
with any demand for Provisions,
Stores, or Tools, you may have occasion
to make during the continuance
of it; having an entire confidence
in your discretion and prudence,
and being convinced that you will not make
any Demands that are not particularly
requisite for promoting the present undertaking.
(p.206)
6. As it might prove of very
great inconvenience, expense
and trouble to you Personally
and greatly interrupt and
disturb the Working Party
if idle People from motive
of curiosity were permitted to
Visit you or your Party during
the time you and they are employed
on the present service; I have
deemed it advisable to issue
a Government Order prohibiting
Idlers from visiting you or
crossing the Nepean at Emu
Plains, without a Pass signed by
me. I enclose you herewith some
few printed copies of this Order, which I request
you will have Pasted up at ?
conspicuous places, and give the
necessary orders to your Guard,
and to your Constable to see
it strictly enforced.
I remain with regard,
Sir, your most Obedient Humble Servant
(Signed) L. Macquarie
Gov. in Chief of NSW.
To William Cox, Esquire.
On 7 July 1814 Cox commenced building the 12 feet wide and 163km (101 miles) road, starting at Captain Woodruff's Farm, opposite Emu Plains. The work was completed in a staggering 27 weeks on the 14 January 1815. Cox had a work party of 30 convicts and eight guards and some freemen, including Richard Lewis and John Tighe who had accompanied Evans' survey party.


Considering the constraints of the terrain, weather, illness and the length of the road Cox's job was not always easy. An entry for November 3 1814 in Cox's journal demonstrates some of the typical challenges:
At 6 this morning went forward with Lewis, Tye, and a soldier to examine the mountain at the end of the ridge-four miles. Found it much worse than expected. It commences with going down steep between immense boulders, when it opens with a very steep gulley in front, and towards the left it falls off so steep that it is with much difficulty a person can get down at all. The whole front of the mountain is covered with loose rock…"
(Mackaness, p.52)

An Account of Expenses Incurred during the
period and for the persons Employed in Making
the Western Road from 12 July to 24 Dec 1815.
———————————–
Eight Weeks Maize for Men & Horses at
5 bushels per week at 5 shillings
6 carts? Potatoes at 20 shillings, for Cabbage
14 pounds Green Tea for the Free Men at 7 shillings 6 pence
24 weeks soap at 5 halfpenny's per week, 120 halfpenny's at 1 shilling
75 plain strong shoes, nice? M? at 12 shillings
Leather and Hemp for Making Shoes
Tin Lamp and Lamp Oil
Grinding 13 bushels of ? atWindsor
Sundries purchased for my own use
Cart Horses for the M? for the first journey
to work at Woodruff Farm
Cart Horses to carry fresh provisions to
the Party 20 weeks at 20 shillings each time
Total 106 pounds 10 shillings
25 January 1816
Paid for the Contents by an
Order of the Police Fund
Running across page in margin:
Order of the Police Fund
On 20 January 1816, LM (Lachlan Macquarie)

Land grants for Cox
On the completion of the road William Cox received 2000 acres of land near Bathurst, the first land grant west of the Great Dividing Range.
Governor Macquarie travels the new road
On 26 April 1815 Governor Macquarie, accompanied by his wife and a party of dignitaries set out on a coach trip to travel across the Blue Mountains on the newly completed road. On the way Macquarie named Springwood, Blackheath, Mount York, Cox's Pass, Vale of Clywdd, Cox's River and then Bathurst, on the banks of the Macquarie River on 7 May.


The full letter and transcript is available on our Lachlan Macquarie Gallery
Expansion and settlement in the Blue Mountains
Over the next 30 odd years settlement in the Blue Mountains and on the plains beyond was limited. Military posts and a small number of inns dotted the roadside to cater for travellers on horse-drawn mail coaches and stockmen sending goods to Sydney. A traveller needed a pass to use the road for many years but in 1851 gold was discovered at Ophir. Soon there was talk at building a railway over the Blue Mountains, an event which would dramatically change the landscape of the region forever.
References
Fourteen Journeys Over The Blue Mountains of New South Wales 1813-41, ed George Mackaness, Vol XXII, 1978
Blaxland-Lawson-Wentworth 1813, ed Joanna Richards, Blubber Head Press, 1979
Related
Blue Mountains Crossing, National Museum of Australia
Research by
Suzanne Upton, Archivist Public Access