This booklet is presented as a descriptive guide, and it is intended to
give details of tourist and residential advantages throughout the
Blue Mountains Shire area… (Page 1)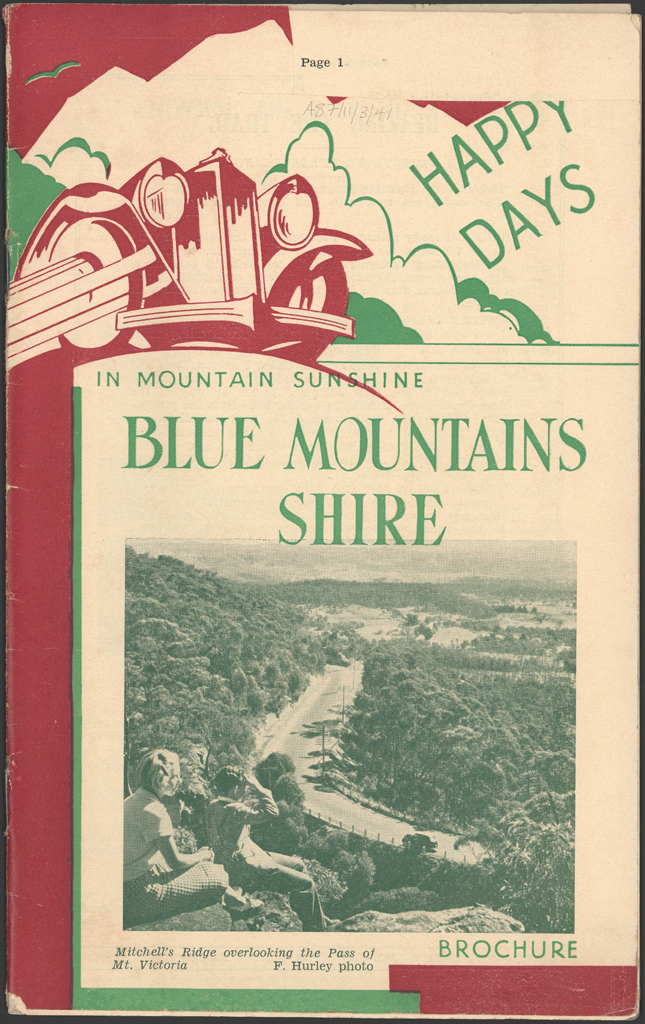 This travel brochure – dated c.1937-1940 – entices the reader to take a railway trip to the Blue Mountains Shire, for a visit or a holiday. It gives a brief history of the crossing of the Blue Mountains and a 'tourist synopsis' of interesting facts and about the towns (including distance from Sydney and height above sea-level and photos). The brochure is part of NRS 16410 – Albums of Travel and Advertising Brochures, 1938-1957
The bottom of each page includes comments and essential travel tips from the Railways such as:
Excursion Trains to the Blue Mountains Every Friday, Saturday and Sunday
Weekly Tickets for Tourists available anywhere Springwood to Mt. Victoria
Combination Tickets (train, motor to sights, meals) to Katoomba Any Day
The Caves Express is one of the world's fastest mountain-climbing trains
Browse through the brochure above page-by-page or dip into selected pages and towns of interest below. Links to the images in Archives Investigator (AI) are also included.
List of contents
These are also larger versions: